Posts Categorized:

Inspired Ideas

Check out the summer 2014 issue of Inspire(d) online!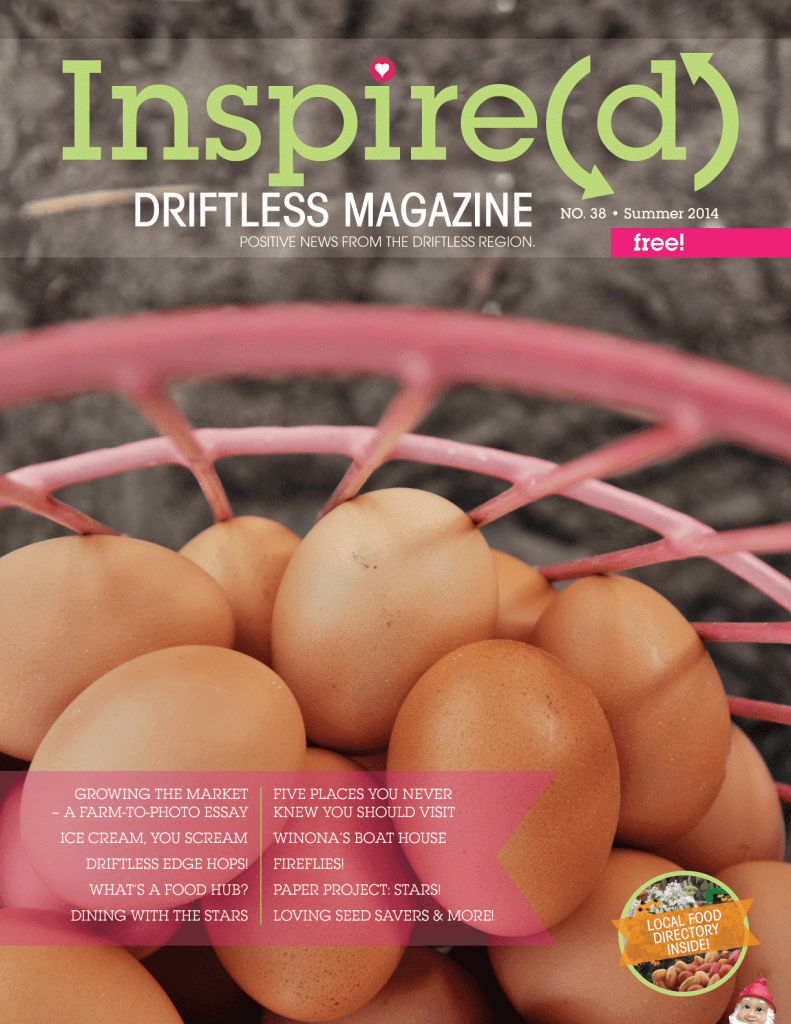 (What's got 8 wheels, 25 strings, 5 heads and is 140 years old? Well, The Alaska String Band of course…)
By Benji Nichols
When faced with the choice to either buckle down with a "day job," or leave your career to tour across the country playing music and traveling in a 40-foot bus with your three children, it's safe to say that a lot of parents might chose the day job. But life is short, fragile really, and children don't stay kids for long, which are all reasons that Paul and Melissa Zahasky and family made a collective decision from their home in Juneau, Alaska to quit their jobs and buy a 40-foot MCI tour bus site unseen. Their extraordinary musical talents would not only entertain crowds from Juneau's Gold Creek Salmon Bake to the southern-most tip of Texas, but would also pay the bills. And heck, who knows, maybe along the way they'd have the time of their lives. The bus, and Zahasky's parents (Don & Helen) live here in Decorah, and lucky for us, the Alaska String Band uses this as a home base while traveling to and from the lower 48 states.
Inspire(d)'s Benji Nichols recently caught up with the "Z-Family" to ask a few questions about how this whole family string band thing got started – and the next thing you know there was a show scheduled in Decorah with the AK String Band. Don't miss your chance to meet Paul and Melissa Zahasky and their three incredibly talented kids – Laura (18), Quinn (16), and Abigail (12) – as Inspire(d) and The AK String Band host a benefit concert for Decorah's Free Clinic Thursday, February 18, at 7 pm at First Lutheran Church. Admission will be a cash donation to the Free Clinic, but no will be turned away for lack of funds.
Inspire(d): How did the Alaska String Band come to be?
Z: We (Paul and Melissa) were introduced by a common musician friend many years ago. Our first performances together as a duo were in churches in Juneau and on board cruise ships. Music has always been a passion and a natural part of our lives so the children were exposed to it from infancy.
It is a common occurrence that children will imitate the behavior of their parents and that seems to be what has naturally occurred. Of course, we offered to teach the kids how to play various instruments from when they were very young, but never insisted that they do so. We did say that if they wanted to participate in performances that they would have to take lessons and practice but that decision was left with each child. As they have matured and shown the dedication to learning and loving music, we have actively searched for venues that could accommodate our growing family band.
Making the decision to transition the Alaska String Band from a local music group to a full-time performing ensemble was slow and somewhat agonizing. We both reached a point of overload where we realized that Paul could no longer work full time as an Alaska State Parks employee and run his own excavating business, while Melissa oversaw the home and education of our children. At the same time the Band continued to increase its schedule to the point that nothing was being done well. We spent months discussing our visions and goals, talking with friends whom we felt could offer sound council, and praying for direction.
We asked ourselves tough questions such as: When I am really, really, old (a lot older than I am now) will I have any regrets of not following my dream? If we give up the security that a full time position with the State of Alaska including benefits provides, in exchange for only a year or possibly two to pursue this musical dream with our children, will it have been worth it? We always consulted the children on their desires as well. A good Juneau friend offered us this helpful gem; "God is not in the habit of showing you the net until after you jump…" We are a year and a half past the point of no return, and we have no regrets.
Inspire(d): What Inspire(d) you all to start playing music as a family, and perhaps more importantly continues to inspire you to keep playing together?
Z: In the process of becoming a family string band we have discovered that it not only feeds our musical passions but also knits us closely together. We share a common dream, which includes success and failure, fear and courage, totally cush gigs and crummy hardships, frustrations, disappointments and delights, humor, humility and pride, and of course faith, hope and love.
Wherever we perform there are comments that continue to spur us on: "Thank you for being willing to share your faith publicly. Don't ever stop doing what you're doing!! What do you really do for work?!? Do your kids ever fight? You guys are shredders!! Do you sleep in the refrigerator to keep warm?"
Melissa was originally inspired with the family string band idea by seeing the McLain Family Band perform (www.mclains.com) when she was a child in Juneau.
Other inspirations have been "The Sound of Music" – which leaves one wanting… Wanting to know the rest of the story, which our family discovered when we read aloud "The Story of the Trapp Family Singers" by Maria Augusta Trapp. In addition The Von Trapp Children – today's great, great grandchildren of Captain George and Maria Augusta Von Trapp – have been fun for us to read about and see in concert. Another read-aloud that our family enjoyed was "Don't Think It Hasn't Been Fun: The Story of the Burke Family Singers" by Sarah Jo Burke.
Finally, music is eternal. There will always be one more song to sing, one more genre of music to aspire to. We will never arrive, but are continually led on to greater depths of feeling and communication through the exploration of music. Ultimately it is our Creator who inspires and enables us to continue to sing and make music.
Inspire(d): Tell us about home schooling your kids. What has that been like in addition to keeping up performances and a national touring schedule?
Z: Laura, Quinn and Abigail have been educated at home from infancy. Alaska hosts a large population of home-schooled students and the state has been very accommodating to this form of education as the remoteness of many homes inhibits public school access. Our children are currently enrolled in a state funded correspondence school that provides certified teachers, guidance counselors, yearly state mandated testing, educational resources, and an accredited high school graduation ceremony. We choose the curriculum that best suits each child's course of study and teach it ourselves. Laura is our first high school graduate having received her diploma in May of 2009.
The transition of schooling at home to schooling on the road is seamless. It's just as hard on the road as off! Staying disciplined and focused at home has proven to be as difficult as studying in the midst of travel. There will always be a million distractions no matter what our circumstances are. When the Alaska String Band is faced with a split decision the kids get three votes, Mom and Dad get 10.
A few techniques we have found that seem to foster better study habits are: Feed the kids, Academics first. Study in the morning and practice music no later than 6:00 p.m. if possible. Separate the kids – this can be a challenge in a 40-foot bus, but if left together in too close of proximity without fairly close supervision they act just like every other school kid in America. While traveling use a tippy cup – or your essay on "Bus Dwellers Across America" will be coated in Gatorade. Avoid study or practice/rehearsal outside the bus – due to the public arena that we are immersed in while touring we have found it is just about impossible to work without interruption if we are outside the confines of the bus. People love t
o visit with us and are naturally curious about what we are doing. They also love to talk about Alaska if they have been there themselves or ask us what it is like. We love to do this but find it has to be separated from school and work responsibilities.
This touring experience touches on all aspects of education and richens their awareness in ways that a textbook cannot. Often the children will study on weekends, at odd hours and through holidays knowing that there will be interruptions in the coming days on the road.
Inspire(d): Tell us how you came to be the proud owners of a tour bus and any favorite bus stories from the gang.
Z: When we began dreaming up our first national tour we all agreed that a bus would best accommodate our needs and desires. Old of course was a prerequisite due to our "vast" financial resources and all the derelict busses around Juneau were spoken for, so we surfed the Internet. Eventually Paul came across a 1978 MCI 8 which appeared to fit our criteria. It was located in Missouri and had been converted by a contractor who had used it for his own family's RV. Paul carried on correspondence via email for quite a while and in the end it was a huge step of trust in an unknown, but thankfully genuine and honest cyber seller.
We packed up an excessive amount of tour gear which included all things relating to music performance, school and recreation and which we were sure all music stars would find necessary, hopped on an Alaska Airlines jet and flew to Chicago where we rented a car and drove the rest of the way to our bus's home in Eureka, Missouri, then hit the road. As we are currently into our fourth cross-country tour, our bus is maintaining consistent performance. Gas mileage: five miles per gallon, down hill with a tail wind traveling south. On an average we end up in the maintenance shop once per tour.
Late one evening while driving down the Crooked Road – Heritage Music trail in Virginia, Quinn recalls one hysterically funny escapade. It was a dusty drive and the windshield had coated over with a pretty heavy layer of cruddy mud. Paul saw a toll booth rapidly approaching and yelled, "Somebody fill the largest bowl you can find with water and as soon as I stop at the toll booth I want one of you kids to jump out and rinse off the windshield for me so that I can see properly!" Quinn was the quickest responder and as we rolled to a stop he jumped down and crossed in front of the bus. He gave a good heave to the bowl of water. The water flew up in an arc then swooshed down with a huge splash through the open tollbooth window, drenching the attendant and filling the change drawer and his lap with water. Quinn shot back into the bus and dove to the darkened recess of the furthest back room. He didn't surface for quite some time. Melissa and the girls were howling with laughter and Paul was left trying to explain to a shocked tollbooth operator the purpose of his 14-year-old son's agua ambush.
Inspire(d): What would the "ultimate show" be?
Z: Garrison Keilor's "A Prairie Home Companion," a round-the-world music tour, Carnegie Hall, or Sarah Palin's presidential inauguration.
Inspire(d): Can you tell us about the musical advantages of being a family band?
Z: Quinn would most definitely say the food. We would say living and raising a family in Alaska is an amazing opportunity. Our remote location in Juneau, which can only be accessed by air or water, poses some serious restrictions on travel. We have found that the travel afforded by the entertainment industry has been an incredible boon. Young pickers also learn faster and are more nimble than their elders and they breathe new life into old songs.
Singing in harmony is an ongoing challenge. It's a spine tingling moment when the pitches meld together so perfectly that the harmonics buzz in your ear. Because we are family our voices naturally sound similar and identical phrasing and breathing becomes intuitive. We do not personally detect a difference in our blend compared to other musical groups that are not tied by blood, however many who have heard us sing do say we possess a sound heard only in family ensembles.
Inspire(d): What has the biggest highlight of the past year been – musically, and non-musically?
Z: Completing a summer season of Southeast Alaskan Odyssey Shows in our homeport of Juneau on board Norwegian and Holland America Cruise lines. Doing a chapel service as well as the Southeast Alaskan Odyssey Show in the 2500 seat Belcher Center for the Arts at LeTourneau University in Longview, Texas, one day and giving an Alaskan String Band performance at Curtis Rountree's Bluegrass Pickin' Place in Lonestar, Texas, the following day. Sharing stages across the country with other awe inspiring musicians as well as meeting other family string bands who are following a similar dream. Enjoying untracked deep powder slopes at the Eaglecrest ski area in Juneau during a record breaking 20-foot snow fall winter followed up with a summer of record-breaking sunny days and warm temperatures in our rainforest home.
Inspire(d): What is the temperature out right now where you are, and what was the last wildlife that any of you saw before answering these questions?
Z: We are on North Padre Island, on the Gulf of Mexico in southern Texas. It is 73 degrees Fahrenheit.
Abigail: a jackrabbit
Laura: a sand crab
Quinn: a sea worm
Melissa: a pelican
Paul: an out-of-control Texas road hog
Inspire(d): What do you miss the most about home and Alaska when you are not
there?
Z: Family, friends, regular aerobic exercise, excellent mountain drinking water, our spacious home, pristine wilderness, abundant wildlife, and alpine meadows.
In response to one of Quinn's Vocational Tech classroom assignments Quinn is currently keeping a travel blog entitled Quinn's Extraordinary Travel Ramblings. This is an ongoing account of his adventures with the Alaska String Band and can be accessed via the Alaska String Band website www.alaskastringband.net.
Benji Nichols is completely inspire(d) by the Zahasky family and their adventures. He also has to thank his Dad, Paul Nichols, for tipping him off about the Alaska String Band. Benji is no stranger to old busses and touring – and looks forward to more escapades to come, along with the comforting hum of a diesel generator lullaby…
By Aryn Henning Nichols
He's been called the Willy Wonka of recycling. Terry Buenzow walks around the Winneshiek County Recycling Center pointing at different contraptions that squeeze, shrink, shred, and generally squish all sorts of recyclable materials. With a friendly, teaching sort of voice, he talks over the clang of cans and the whir of forklifts, explaining the path of the cardboard box or number one plastic ­– "You're wearing number one right there. Polyester!" He names off numbers and details on each item like he's listing off grandchildren; this guy really loves recycling.
For nearly a decade, Buenzow has been watching the paper/plastic/metal/textile/glass market to analyze what's going to happen in the recycling world and how to most effectively and efficiently put items we no longer need or want back into use or back on our shelves. Since the Winneshiek County Recycling Center (WCRC) became a public facility on April 1, 2009, interest in the center has increased dramatically. People are stopping out to drop off items, learn a little (or a lot) or to just say hello.
"Our direct traffic out here since April 1 has tripled," Buenzow says. "A lot of people in this county feel some ownership now. Which is good. That's the kind of attitude you want in this business."
Perhaps it's this attitude that makes the area's recycling so consistently high quality.
"People in this county are really great about recycling. Things are clean and there is very little public dumping," Buenzow says. "As far as the recycling jobs in Iowa, I got the best one. This is it. I don't complain."
Other counties have a harder time, especially with appliances, and when it's $15 a pop for disposal, this can really add up. "We are fortunate we don't have to deal with that very much," Buenzow says.
That being said, Buenzow has seen some interesting items come into the center over the course of his time there.
"You name it, I've seen it in here," he says.
Barbie dolls?
"Tons of 'em." (FYI: you CAN'T recycle Barbie dolls – take them to a second hand store for reuse.)
Toilets?
"I've seen a toilet come in here," Buenzow says. "But they're hard to fit in the bins anymore 'cause we made the openings smaller."
The things they do accept have a varied life. Each state has its own recycling policies, Buezow says, and most centers are county-run. The different materials go to manufacturers across the US and Canada, and it is an ever changing market. The sale of recyclable plastic, for instance, is entirely tied to the natural gas market. The type of paper you've got in a bale can more than double its worth. Textiles can go to another country for reuse or cut up to be repurposed. It's an amazing world of working with what you've got – something people seem to be relearning these days.
Luckily, the path can be pretty short for recyclables in Northeast Iowa. There are many manufacturers just a short truck route away. International Paper in Cedar Rapids. the largest cardboard recycling mill in the country, second in the world, is just 90 miles away.
"I'll have a dedicated semi-load of cardboard in six days, same with paper," Buenzow says. "Most likely it will go to Cedar Rapids, and it can be there in just a couple of hours."
Check out Inspire(d)'s illustration of sample paths many of the things you put in those bright blue bins might take. Buenzow says that although people around here are educated about recycling, the center could accept even more materials. He hopes his latest education efforts – like entering the social networking world by putting WCRC on Facebook – will help people learn even more and in turn recycle even more. Check them out to learn more about recycling or how your tax dollars are being spent. Or stop out and say hi. Better yet, volunteer to help and really take ownership of this publicly funded organization.
"It's great if you want some therapy – just come out and smash or shred stuff," Buenzow says, (after signing a liability form, of course, he adds). "Junk is fun!"
Aryn Henning Nichols was excited to win the golden ticket and visit Terry Buenzow and the Recycling Factory.
Winneshiek County Recycling Center, 2510 172nd Avenue, Decorah, IA, 52101
563-382-6514
Find Winneshiek County Recycling on Facebook – there's lots more information and even guides on how to prepare your recycled materials!

Below is some information Inspire(d) got on recycling in Winneshiek County while visiting Terry Buenzow.
Cardboard: Most of the WCRC cardboard heads to Cedar Rapids International Paper, the largest cardboard recycling mill in the country. "The cardboard industry thrives on recycled content. The International Paper mill is running totally recycled," Buenzow says. Do accept: Basic brown corrugated boxes, cereal, cracker and cake boxes, 12-pack cartons and pizza boxes, shoe boxes and mailing tubes. Do not accept: Waxy containers like butter boxes and orange juice cartons. $65/ton
Paper: Paper comes in different grades – office paper, newsprint, mixed waste (the "I can do no wrong" paper) – the price range for paper starts at  $25/ton and runs up to $250/ton (that's for sorted white, ledger). It might go to some tissue mills in Wisconsin or a newsprint mill in Ontario. "Our first choice is always to make a similar product."
# 8 News – needs to be 80% newsprint – this is worth around $35 to $40/ton
Office paper – traditionally strong $165/ton at least – pure white $250/ton
And yes, you CAN recycle magazines! If you've passed Inspire(d) on and on and on and don't want to save it for your "collection," recycle it!
Things you might not know about paper recycling: don't worry about staples or little plastic windows. Paper plates? Not recyclable, sorry.
Plastic –  #1 & 2 hold the best market value. The price of plastic is tied entirely to the price of natural gas. "Plastics are the most complicated and confusing of all the materials we take. We have to sort the plastics by their number at the recycling center because the different types are not compatible with each other when they are re-melted at a plastic processor."
#1 – pop bottles, water bottles, etc.– might go to a place like Mowawk Carpets in Georgia Makes good carpet, fabrics, fleece blankets, etc. It's a very strong plastic. "The power of number 1 plastic is unbelievable." Over the past six months #1 has been worth from $120 – $175/ton.
#2 – milk jugs – can get 15,000 pounds in one bale. It squishes better. It can be made into pails, toys, car parts, or construction materials. The rest of the numbers (3-7) go into waste reduction bales along with enough 1 and 2 to make them at attractive on the market. The bales are sold to a variety of plastic processors.
Aluminum/Tin/Metal – "Metal items are some of the easiest products to recycle. In fact, almost all of them have some recycled content. The basic tin can may end up being part of a new car or made into a can again. Aluminum beverage cans usually become new beverage cans or foil. Aluminum frying pans and cookie sheets can become about any other aluminum product there is." Some goes to processor in Eau Clair, WI, to make steel siding – you can buy that siding at Menard's – and a lot of other metals go to Le Roy Iron.
Do accept: Food cans (the basic "tin" can), beer cans and pop cans, aluminum foil (they have an aluminum foil cubing machine), pie plates and roaster pans, metal cookware, such as frying pans, cookie sheets, sauce pans, etc., decorative canisters and tins, electric motors, electrical cords and wall chargers. Metal prices can range from $30/ton to quite a bit more for
Textiles and shoes: Take your used clothing and shoes to the Depot Outlet in Decorah (or another second hand store in your town). WCRC works closely with the Depot. What they can't sell goes to WCRC for baling or sorting and selling. Textile bales may go some place like Toronto for resale "What's not fashionable here might be there."
Glass: "It's really hard to work with," Buenzow says. "That's why there isn't a market for it." It's not a favorite topic at recycling centers. That being said, you may take glass directly to WCRC. It will be crushed and used for landfill drainage at the Winneshiek County Sanitary Landfill. Best option? Be conscious of glass packaging you do buy. Choose plastic if possible.